Introducing: Hero and Villain of the Week
Protest Video of the Day: Representative Mark Pocan on Redistricting
Fake Democrats Lose In Wisconsin Primaries While Exposing Fake Financial Concerns Of Scott Walker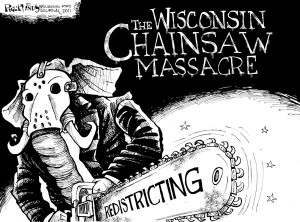 Hands on Wisconsin: Wisconsin Chainsaw Massacre
Investigative Report on the I Hate Jeremy Ryan FB Friends
Wisconsin Truth Tour Kicks off in Green Bay - Wisconsin State AFL-CIO Blog
Rep. Mark Pocan talks about Walker's anti environmental changes in the state budget.MP4
Recall Flotilla - July 17, 2011
- Lake Geneva photos
Kurgman says:
Letting Bankers Walk
2011 Candidates
- video
Northwoods Patriots: NULLIFICATION -- STATES CAN RESIST FEDERAL LAW
Remember this?
Wisconsin Protests:Tony Schultz, Speaks up for farmers, March 12, 2011
New polling places for many Janesville residents -- GazetteXtra
Walker: "Wisconsin is a Small Business"
John Nichols: GOP maps warp state democracy
Dispelling the Myth 'When' to Recall Walker
TELL CLINE MINE, THE ANSWER IS NO MINES IN ASHLAND COUNTY
Fitzgerald Brothers
- The internal thoughts of the Fitzgerald Brothers...
State's new lines could undo county's work -- GazetteXtra
Cullen proposes making redistricting process nonpartisan -- GazetteXtra
One general, two primary elections in Democratic districts set for Tuesday - JSOnline
Reshaping Wisconsin via Redistricting
- Senator Chris Larson
U.S. Rep. Duffy: Urges state officials to implement Caylees Law in Wisconsin
COMMENTARY: Is concealed carry concern real or over-blown hype?
The nation is watching...
Can `class warfare' win in Wisconsin recall fight?
Recall elections in Wisconsin a nationwide test for both parties
Harsdorf sinks to new low | Hudson Star-Observer | Hudson, Wisconsin
Bob Jauch at Joint Public 'Hearing' on Redistricting 7.13.11
Labor Union, Democrat Anti-GOP t-shirts & gifts: Home: Zazzle.com Store
Paul Ryan is in total denial - The Plum Line - The Washington Post
PolitiFact Wisconsin | Wisconsin Rep. Donna Seidel says the $290 million structural surplus in the state budget is not real
PS Added SUN Morning - "Hands On WI" - "Recall delay really about redistricting"!
The ad wars heat up in the Wisconsin recall campaigns - JSOnline
Walker's money worries: Cuts are suddenly a bad thing