With No Recall Effort Under Way, Are Walker Recall Signs Legal?
Who do you ♥
Federal Appeals Court Has Deemed Prohibiting Cameras or Filming Unconstitutional
Stephen King launches leftwing radio show
Click here to listen to Stephen King streaming:
http://player.warpradio.com/player.asp?id=4417&streamType&streamRate=0
In the meantime...
UAWs $450 million GM suit not blocked by bankruptcy court
Rally on Madison
This is how Walker treats TEACHERS!
All schools feel impact of state budget cuts -- GazetteXtra
Picket Badgerville, sponsored by Johnsonville
Social Media Changing the Landscape in Wisconsin's Recall Elections
GOPer Mark Neumann Announces Senate Campaign In Wisconsin
Vicki McKenna Demands Apology from One Wisconsin Now
Big shakeup in Sun Prairie as administrator gets boot
NFL Players Association Rejoins AFL-CIO
We Are One | Labor Day Festival
http://teachersagainstwalker.files.wordpress.com/2011/08/new-rules-pay-attention.pdf
5 Tips for Sparking a Grassroots Movement Online
This Labor Day we need protest marches rather than parades
How Can a Boycott Actually Work? The Failure of Consumer Activism : Mike the Mad Biologist
Signature Collector Sign up
BST Presents: The Lamentable Tragedie Of Scott Walker
Outloud with Mary Carol
Reflecting on the Democracy Convention
1998 Feingold-Neumann Debate
Plain Talk: Walker left Milwaukee County with 'Titanic meets Hindenburg' budget
The Wisconsin Club for Growth says Democrats in the Legislature in 2009 voted for various "pork proj
ects" rated as "False" by PolitiFact
Hands on Wisconsin: Wisconsin Terrorism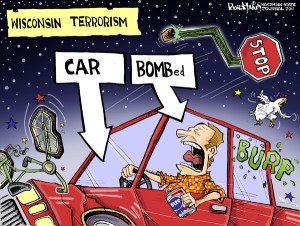 Calling out Republicans on voter ID
This Labor Day, we need protests | Need to Know
Wisconsin Town Bars Republicans From Labor Day Parade : NPR
UNITING ALL WHO LABOR: Labor Day Walk, Rally, & Picnic
Governor Walker visits Diamond Precision - Daily Jefferson County Union - Fort Atkinson, WI
Call for Submissions: Anthology of voices from 2011 Wisconsin Uprising
What Does Collective Bargaining Mean to You?
Union Plus Solidarity Map - for union members and supporters of America's workers
Unity Rally (Walk of Faith)
- peaceful counter protest of neo-Nazi group in West Allis, WI on Saturday, September 3rd. Please come and show your solidarity / unity against white supremacists!
Union Thugs in America
School district levy higher than first thought | Herald Times Reporter | htrnews.com
Must Have Been Tired
Video: The ugly protest at Wisconsin's Messmer Catholic School over Walker visit - Hot Air
Ryan staff calls cops to keep constituents away
Report detailing incident between two Wisconsin Supreme Court Justices released
Scott Walker Comes to Riverwest » Counterpunch: Tells the Facts, Names the Names
Soup Kitchen and Speak-Out!
Republican Politicians Banned From Labor Day Parade In Wisconsin
National Guard leaders address future at Milwaukee conference
Wisconsin union council bans Republicans from Labor Day parade | The Raw Story
Wisconsin schools alter sick-leave plans - JSOnline
Draft Sen. Larson for Governor of Wisconsin
Walker Protest - August 27, 2011
August 29, 2011, Solidarity Sing
Vicki McKenna: Class Dismissed!
Thanks
Milwaukee Ironworkers
!
"ATTN: Walker will be at the Milwaukee Art Museum tomorrow at around 9:00 am! I know it's short notice, but if you can make it - you know what to do!
Please share!" - Milwaukee Ironworkers