Madison360: Walker's scorched-earth start nearly complete
"Extraordinary Session" Requires Extraordinary Action « Badger Democracy
Access to the State Capitol this Week | Defend Wisconsin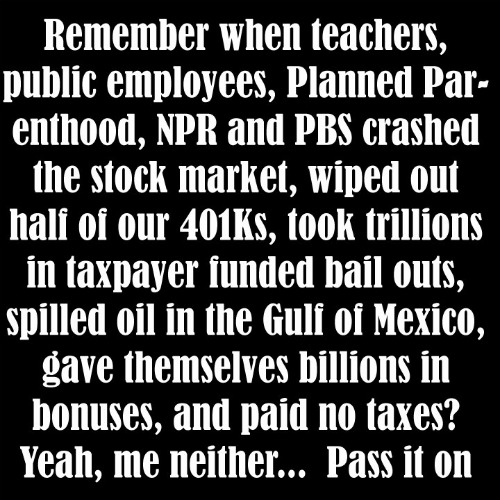 GOP redistricting plan has Republican Cong. Sean Duffy's re-election in mind - JSOnline
URGENT! MADISON RALLY! TUESDAY!
- Facebook event
Press Conference @ WMC
- protest video
GOP to add collective bargaining changes to budget if court hasn't acted by Tuesday - JSOnline
Wisconsin Anti-Violence Effort
Wisconsin GOP Senator Accused of Using Office to Benefit Wife
Get to know the other side...
Mobilize in Madison! Schedule for Anti-Budget Actions, Tuesday June 14 | Defend Wisconsin
Wisconsin public Internet fights telecom attempts to kill it off
WiscNet
page on Facebook. "Like" it!
Wis. Protesters Share Iraqi Shoe-Thrower Award | AFL-CIO NOW BLOG
In the meantime in Milwaukee...
Abele backs benefits for domestic partners - JSOnline
Order | Autonomous Solidarity Organization
Internet costs could triple for schools, libraries under state budget addition | The Oshkosh Northwe
stern
PolitiFact can't see either the forest or the trees, just WMC's point of view
Walkerville, State Capital Steps, Wisconsin
- Facebook group
Alberta Darling Supports Paul Ryan Medicare Plan: Paul Ryan is a Hero | Defend Wisconsin
In the meantime...
Governor Walker Statement on Balanced Budget
Top Wisconsin GOP recall target: Paul Ryan is a `hero' - The Plum Line - The Washington Post
TEA PARTY COUNTER RALLY JUNE 18
June 14 Rally at the Capitol - 5:30 pm on the State St. side. Let's stand together agaisnt the budg
et bill
Medicare Saves Money
- because you should always read Paul Krugman
Vos, GOP steering Milwaukee back to paying bad cops
Print for tomorrow's rally
Editorial: Don't end online access to financial disclosure reports | Sheboygan Press | sheboyganpres
s
In the meantime the Onion says...
Young Billionaire's Age Not Reported For Sake Of Nation's Ego
www.thewheelerreport.com/releases/June11/0613/0613wispirg.pdf
- WISPIRG response to Scott Walker's "The Great Wisconsin Pothole Tour"
GOP Election Fraud Blog: The Republican Recall Racket
Governor Walker invents another misfitting metaphor
Wisconsin State Representative Mark Pocan: Pocan talks about health care
THEY'RE LOOKING FOR A FIGHT -- LET'S GIVE THEM PALM TREES AND DEMAND OBSERVABLE HAND COUNT PAPER BALLOTS ON RECALL ELECTIONS
Wisconsin GOP Batters Democracy With Sleazy "Fake Candidate" Strategy
Telecommunications Budget Amendment Will Place Hardship on K-12 Schools, Libraries, Hospitals and Mo
re in Rural Wisconsin
Cyber Saturday: Wisconsin's Impartial Justice Act funding threatened | Green Bay Press Gazette | gre
Editorial: State lawmakers should stop dictating to local government | Sheboygan Press | sheboyganpr
Pro-union website blocked in Wisconsin Capitol
WiscNet - Competition vs Collaboration
Don't Let Them Rig the Recall
Thank you