Just so we're clear:
Study: The More a Country Taxes the Rich, the Happier its People - Politics - GOOD
The Political Environment: Wisconsin Officials: Free WI Voter ID Not Issued Free Is Not Not Wrong
Walker Never Listens - YouTube
Call Your Board Members Re: Mining | Ashland Current
Wisconsin Legislature sets just one work day this month - JSOnline
This is What Contempt Looks Like: | Blogging Blue - Blogging Liberally in the Badger State
Plain Talk: Who'd want to be a teacher?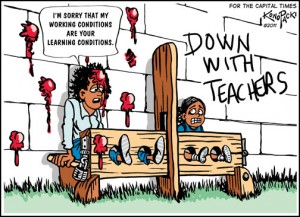 League of Women Voters' Melanie G. Ramey: Lawsuit defends voting rights, upholds state constitution
Ryan's Approach to 71-Year-Old Dissenting Constituent: Tackle, Handcuff, Arrest, Disdain
State Supreme Court dispute may be tough to decide
MPS fast-tracks proposal to make 'voucher tax' transparent - JSOnline
JoAnne Kloppenburg for Wisconsin Court of Appeals
Sly In The Morning: John Nichols: Candyman Paul Ryan, Obama's 9/11, Chris Larsen's Voter ID nightmar
Sly In The Morning: Paul "Candyman" Ryan - Sorry you're unemployed; how 'bout a sucker?
Pocan Announces Run For Congress
Gov. Walker in the City of Brotherly Love - JSOnline
The Committee To Begin To Get Pledgers To Pledge To Recall Recalls
Wisconsin Rep. Brett Hulsey says only one of 376 bill amendments proposed by a Democrat was adopted.
Wisconsin state employee Azael Brodhead fined for honking at Gov. Scott Walker home | Green Bay Pres
Republicans say Wisconsin Legislature will focus on jobs
Anchor Scott Walker Interviews Governor Scott Walker While In Wisconsin
As Scott Walker Retreats on Jobs Promises
FdL gets $200,000 for charter school | Fond du Lac Reporter | fdlreporter.com
Is Horn Honking Protected Free Speech?
Pledgers Pledge to Stamp Out Anti Walker Pledgers
Fighting Bob Fest 10
Colleges could issue stickers for IDs so they could be used to vote - JSOnline
Voter ID lawsuit almost ready
Mobile Update: New Jobs Bill's Impact On Wisconsin Construction Industry
USW The Fighting Spirit
Rally to Defend Tenants' Rights and Welcome the Legislature back to the Capitol | Defend Wisconsin
Watch this and feel your contempt for Paul Ryan shoot up 1,000% |
City of Madison VoterID Workshops | Defend Wisconsin
The Attack on Public Education & the "Fight Back": A Forum with Bill Ayers
Call your legislator now! They aren't able to stop clean elections through the courts so the Republicans are hoping to pass this extreme piece of legislation tomorrow on the floor to remove the power of the GAB to require disclosure of donors to issue ads. Shouldn't the voters have the right to know who is influencing elections?
Wisconsin Legislature: AB196: Bill Text
Fitzgerald, Suder, Kramer, and Ballweg Vote Against Jobs
Allowing stickers on student IDs approved by GAB
State Representative Andy Jorgensen
I just wrapped up a round of listening sessions in Jefferson and Fort Atkinson today, and kept hearing this question: what's being done to create jobs?
Unfortunately , Republican leaders are off to a "slow start." (You don't have to take my word for it, check out the linked story.)
If they really cared about job creation, they'll schedule my MMAKE package for a vote; that would boost Wisconsin's mid-sized manufacturers and create more opportunities at all levels of industry for our workers.
Legislature meets for the first time since recalls
Corporations Represented on ALEC's Private Enterprise Board Are Big Spenders in Washington - OpenSec
Walker protester honks off troopers - JSOnline
The Paul Ryan Watch: A Front Row Seat; Paul Ryan at the Janesville Labor Day Parade!!
Citizen Dave: Madison should strive to be a small New York, not a big Richland Center - Citizen Dave
Walker Admits 250,000 Jobs Will Be Tough
WI Assembly Camera Flash Mob, Protect Your Rights and Shed Some Light
Keep On Walking
Wisconsin Democracy Campaign - Defaming Wisconsin, Desecrating Democracy
Urgent :AB196 on Tuesday Calendar to remove Corporate reporting requirements, limit GAB oversight of
Wealthy Wisconsin Heir Speaks at Koch Brothers Meeting | Center for Media and Democracy
Some seek to use hunter education classes to qualify for concealed-carry permit
City of Madison VoterID Workshops | Defend Wisconsin